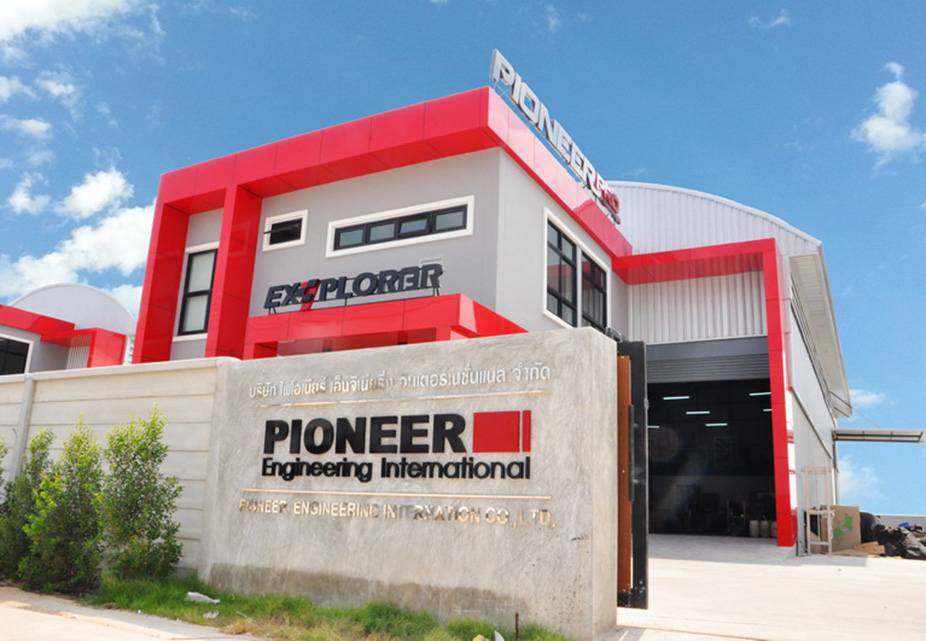 Pioneer Engineering International Co., Ltd. is fully committed to use its skills in craftsmanship,
technologies for excellence efficiency and human resources to develop designs
into more efficient and safer.
Pioneer Engineering International Co., Ltd. counterparts in the society by providing technologies and products that contribute safer life and more comfort. Furthermore, we are committed to create and develop product's design that suitable with the global environment.
Company Profile and History
Pioneer Engineering International Co., Ltd. has expertise in shock absorber for more than 20 years in Thailand. We are well organized, experienced, and highly skilled company in developing and manufacturing shock absorber in offroad style and OEM. For this reason, we are confident to meet your demand with superior quality.
1985
Established as a manufacturer. Our products design and quality control system were based on International Standards.
1990
Expanded the export to Asian market.
2001
Focused on offroad market. Started to produce products based on customer's  requirement.
2002
Manufactured the parts of the shocks. Won as Champion in Rainforest Challenge in Malaysia.
2007
Champion in the following competitions: Outback Challenge in Australia, Rainforest Challenge in Malaysia and Thailand's Offroad Trophy Challenge.
2009
Champion in Borneo Safari in Malaysia.
2010
Champion in RFC China, Pioneer Engineering International Co., Ltd. was certified by the BOI : The Board of Investment of Thailand Expanded  the market in Australia.
2011
Champion in Tough Tracks 4x4 Challenge in Australia.
2012
Access ISO 9001 : 2008 International Quality Certification.
2020
Champion in TWC CROSS COUNTRY 2020 (ISUZU SUPHAN)
ISO 9001 : 2015 International Quality Certification.
Designed for use with existing coils, torsion bar or leaf spring, Pioneer Engineering International Co., Ltd. smooth body shocks are built from the same materials and to the same tolerances as our top of the line race shocks. Their smooth good looks are matched by their smooth performance. These versatile shocks can be built in several configurations to fit your needs and are fully serviceable and adjustable with simple tools. Available with a remote reservoir, piggyback reservoir or pure emulsion we can build shocks to fit whatever and wherever you drive. A set of Pioneer Engineering International Co., Ltd., smooth body shocks, are all you need to make your suspension perform to its full potential.